Over the last decade, Australia's strong economic performance has resulted in significant economic growth, low inflation, low unemployment and low interest rates. The Australian economy is open and competitive, aided by a dynamic private sector and a skilled workforce.
The Benefits Of Working In Australia
Low unemployment rate


For many years, Australia has had some of the lowest unemployment figures in the OECD. As of December 2018, unemployment was steady at 5%.

Continued economic growth


Australia is often referred to as the economic miracle of the developed world. Economic growth has continued unabated for the past 25 years, and is constantly creating new jobs for workers of all skill levels.

Increasingly affordable housing


Australia's property prices have experienced a significant drop, and this is a trend which is expected to continue over the next few years. Most property in Australia is free standing with a yard and incredibly spacious with the average home size 230 square meters so there is plenty of room for a growing family.

Quality of life


With an excellent public education and health sector, globally recognised universities, world class infrastructure and plenty of open space, Australia is a great place to raise a family and has some of the most liveable cities in the world.

Wages and working conditions


Australia's minimum wage is one of the highest in the world and the Fair Work Ombudsman is tasked with ensuring that employees receive all entitlements according to government regulation.

Equal opportunity


Australia is committed to the empowerment of underrepresented or marginalised groups. Equal opportunity legislation aims to ensure that there is no discrimination in the workplace and there are numerous government initiatives designed to promote equal opportunity in the working and education sectors.

Multicultural and accepting society


Australia is one of the most multicultural societies in the world. Almost 1 in 4 Australians were born overseas and nearly 20% of the total population speak a language other than English at home.

Geographic diversity


From wide-open spaces of the Northern Territory to the laneways of Melbourne, the landscapes of Australia are diverse. Metropolitan areas are vibrant and buzzing at all hours. Regional centres maintain their sleepy charm even as economic growth accelerates.

Famous holiday destinations


Wherever you end up working in Australia, there is sure to be a world class holiday destination just a stone's throw away. The Great Barrier Reef, home to 600 types of coral, is just a stone's throw away from Cairns and an hour's flight from, Brisbane. Phillip Island and its fairy penguins as well as the beautiful Great Ocean Road are a little over an hour's drive from Melbourne. Rottnest Island is just a 25-minute drive from Fremantle and you won't even need to leave Sydney to see the famous Opera House and visit Bondi Beach.
We have helped 432,012 people since 2002 and counting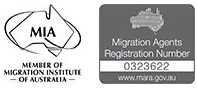 Start Your Professional Journey in Australia ToDay!
Ready to further your career in Australia? Here are the steps you'll need to take:
1.

Review occupation categories and definitions to find out how your existing role or qualification is defined and whether it is currently in demand.

2.

Explore available working visa options to find the one most appropriate for your occupation and individual circumstances.

3.

Start your application. You can either book a consultation with a registered Migration Agent and receive personalised visa advice before completing the application yourself or engage the services of Migration Expert Australia and have us prepare your application on your behalf.

4.

Once your visa is granted, you can start you job search!